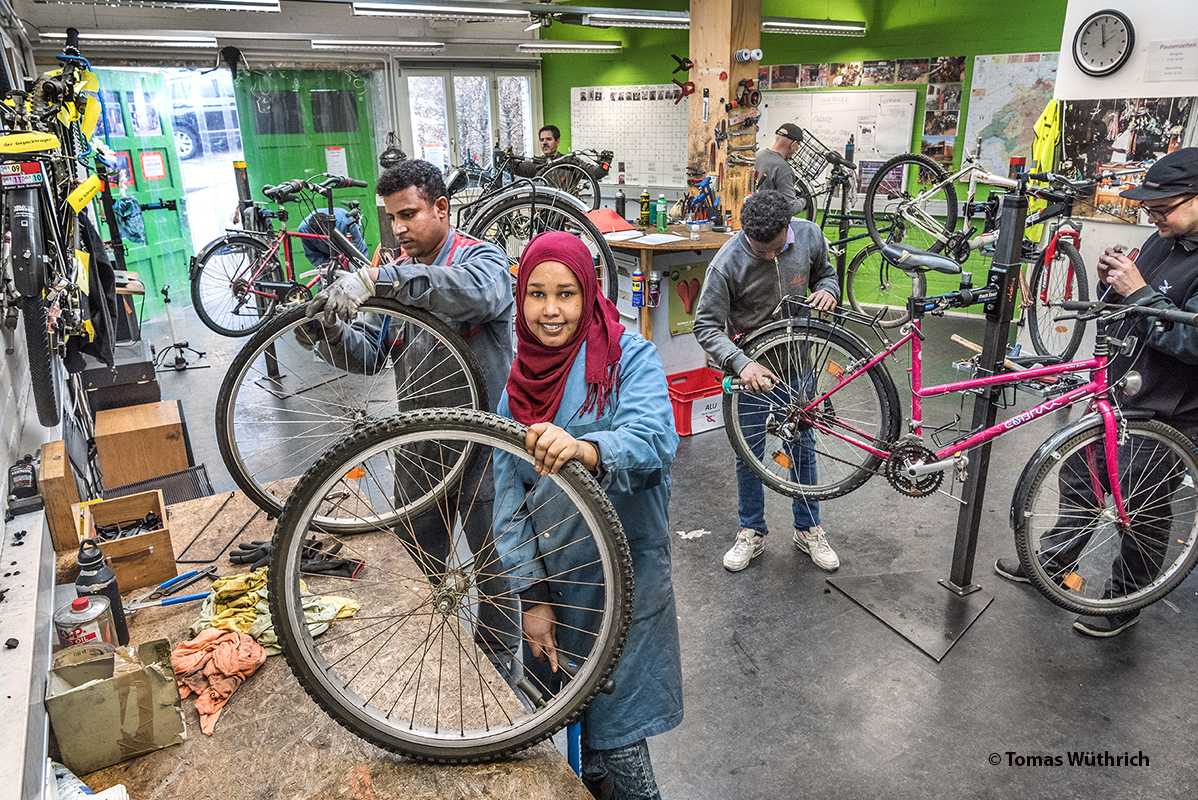 Working together, learning from each other
READ MORE
---
Problem We Are Trying to Solve
For asylum seekers it is very difficult to find a job in Switzerland. "I received one negative response after another", tells me the 26 years old Hyscent from Cameroon. "They told me that I did good work, but that it will be difficult my residence permit." For young asylum seekers the situation is difficult because there exist ever fewer opportunities for them. After a long search, Hyscent finally found a job at the Exportwerkstatt from Velafrica in Liebefeld, Bern.
Hyscent is completing an apprenticeship there since August 2019. His work is an important part in the whole value chain of Velafrica: Hyscent helps to repair bicycles, provides spare parts for the repair of those in Africa and works with volunteers in the export workshop. This enables the vocational training of future bicycle mechanics in our partner organizations and a sustainable bicycle mobility in Africa.
---
How We Are Going To Do It
Since 1993, Velafrica has been collecting used bicycles and exporting them to six African countries. The NGO combines innovative work integration for migrants and unemployed people in Switzerland with sustainable mobility to improve living and income conditions for people in Africa. In our workshops, participants repair the bicycles and prepare them for transport in shipping containers. The meaningful activity a) supports their integration into the Swiss labour market b) improves their language skills and c) increases their chances in the labour market.
---
Who Benefits
In the Velafrica export workshop, people with a refugee background work together with volunteers such as university students and retired mechanics. It is precisely this exchange that holds great potential: intercultural dialogue is encouraged, prejudices are dismantled and participants support each other. We strongly believe in the benefits of this approach and follow our slogan: Working together, learning from each other.
---
Long Term Impact
According to data from the State Secretariat for Migration (SEM), 27'000 people applied for asylum in Switzerland in 2016. About 6,000 of them received asylum and about 7,400 people were provisionally admitted. In this context, the economic and social integration of immigrants is of growing importance. It is, however, quite difficult to find a job as a refugee in Switzerland. Only one in four immigrants finds an employment, even though they are skilled and educated. Especially for younger immigrants the situation is even more difficult, as they lack of experience and there exist very little apprenticeship options for them. This is exactly where Velafrica comes in with its apprenticeship opportunities.
---
What We Need To Do
Hyscent is our second official apprentice in the export workshop. His apprentice wage of 900 swiss francs each month can't be covered through the work on the export bicycles. This is why Velafrica is looking for supporters to help raise money for his important work.
---
Target: CHF 1'300
Raised: CHF 1'210
---
Start a Campaign
Champions
Supporters