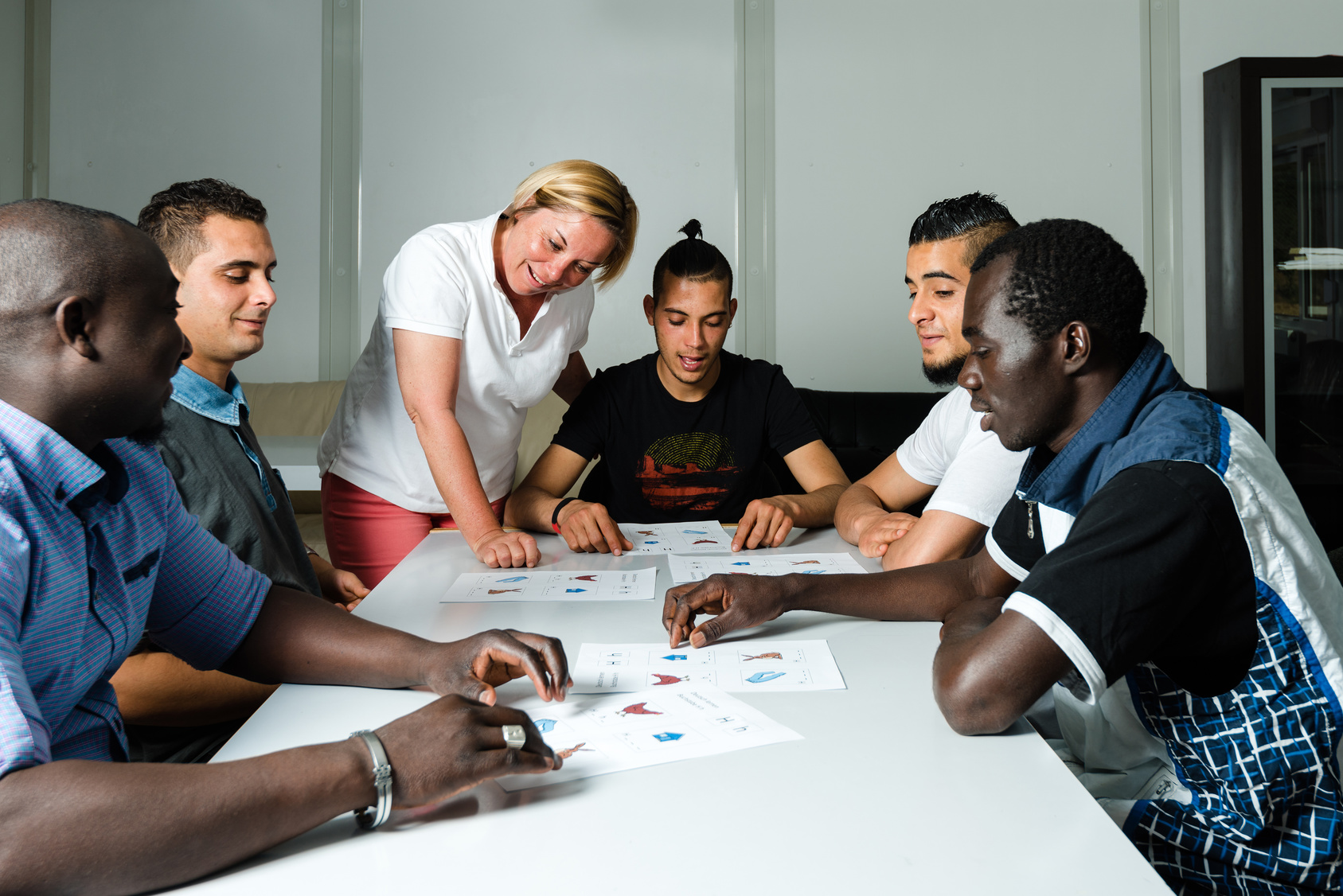 Computer and language skills are important core competencies in today's labor market. But where to acquire such knowledge in the absence of access to a PC, or if German-language courses are too expensive? Moreover, many people have no experience of the labor market, which makes job-hunting even more challenging. Together with LearnLocal, we close a gap in the social net here, and offer the following areas of learning at work:
People can obtain practical basic knowledge by attending low-cost computer and German language courses.
Migrants can gain their first experiences of the working world in sewing/repair shops, thereby improving their chances when they approach the labor market for the first time.
LearnLocal courses require very little prior knowledge, and the costs for course participants are low. The aim is to empower participants by strengthening their self-confidence when it comes to attending further courses or training sessions. More than 65 volunteers work for LearnLocal as course leaders of computer courses, as seamstresses in sewing/repair shops, as German-language teachers, or in childcare.
READ MORE
---
Problem We Are Trying to Solve
We want to give socially disadvantaged people access to training, thereby smoothing their way into the world of work. In many areas there is a lack of an offering that is suited to the financial, professional, social, and temporal needs of these people. Thanks to low-threshold training and work programs, we enable people experiencing poverty – a group that frequently also includes migrants – to gain access to education and work, and to participate socially.
---
How We Are Going To Do It
It is important to approach people and reach them in the areas they live, in order to keep the threshold as low as possible. We are therefore active locally – in local districts and municipalities. We review on an ongoing basis whether LearnLocal is suited to people experiencing poverty. In conversation with participants themselves, as well as in collaboration with specialist organizations, cooperation partners, and other network partners, we ascertain the challenges that these people face, and where the current hurdles lie when it comes to participating equitably in the social and professional life of Canton Zurich.
---
Who Benefits
People who are living on the breadline. More than 1,000 people currently benefit from this offering every year.
---
Long Term Impact
In low-cost computer courses, German-language courses, and sewing/repair shops, people with a low level of prior knowledge can acquire practical basic skills and gather their first working experiences. This improves their prospects of getting into the labor market, and empowers them by strengthening their self-confidence when it comes to attending further courses or training sessions.
---
What We Need To Do
In order to ensure that we can continue to provide these low-threshold offerings in the long term, make new offerings available, and extend them regionally, we are reliant on financial support.
---