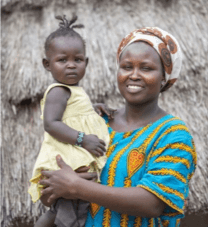 Motherchild Health Education Women and Girls in Malawi to improve their health situation
READ MORE
---
Problem We Are Trying to Solve
In the Chikwawa-district in Malawi only around 61% of households have traditional latrines and only 10.4% even lavatories. This incredibly hygienic situation contributes significantly to a very high infant- and child mortality as well as high death rates among females.
In addition this region is highly negatively impacted by climate change and was heavily hit by the cyclon Idai in March 2019.
AMREF was providing emergency support right after the cyclon and decided now to initiate a project to sustainably strengthen the health structures in this region for the most vulnerable groups - the children and their mothers.
---
How We Are Going To Do It
AMREF Health Africa started to provide trainings to women and girls in so-called "Mother Care Groups", comprising the young mothers in the communities, focusing on increasing hygiene and solid and balanced nutrition resulting in an improved health and resilience against diseases like diarrhea, cholera and malnutrition.
To sustainably imbed this approach in the communities AMREF is using community based project activities and is building on existing health structure in the local communities
---
Who Benefits
The whole community in the Chikwawa-district with special focus on women, newborns and children under 5 years.
---
Long Term Impact
Improving the health situation and reducing high mortality and morbidity rates of WASH (water, sanitation, hygiene) and nutrition related diseases among infant, under-five and mothers.
Empowering women with knowledge on improved hygiene and nutrition behaviour.
Sustainably strengthening local health structures by developing the capacity of local health care workers and facilitating access to Maternal and Child Health Services.
---
What We Need To Do
Funds are needed to

Establish Mobile Outreach Clinics and Equipping Health Care Facilities in the remote areas of the Chikwawa-district
Develop training curricula to sensitize communities on better WASH and Nutrition behaviour on household level and train the local trainers to work with the Mother Care Groups
Strengthen the capacity of Health Workers on Maternal and Child Health Services
---